Ahead of its release later this month, CD Projekt Red has clarified what we can expect from Cyberpunk 2077's huge 2.0 update. In other words, the developer has outlined which big changes will be free via the patch and which adjustments will be part of the paid Phantom Liberty expansion.
Just to be clear, there hasn't really been any misinformation or anything like that, but fans have been wondering whether certain changes will be deployed prior to the DLC's launch on the 26th of September. The good news is that the most impactful gameplay updates are coming in 2.0. That's your complete skill tree overhaul and the new systems for cyberwar, police, vehicle combat, and loot. The game's new radio stations will also be added through the patch.
Meanwhile, the new Dogtown district, its characters, storylines, and quests, are obviously locked behind Phantom Liberty. The repeatable vehicle and airdrops missions are linked to the DLC too, and so is the all-new Relic skill tree (which actually ties into the expansion's plot). What's more, you can only hit the new level 60 cap with Phantom Liberty installed.
Here's the official list from CDPR: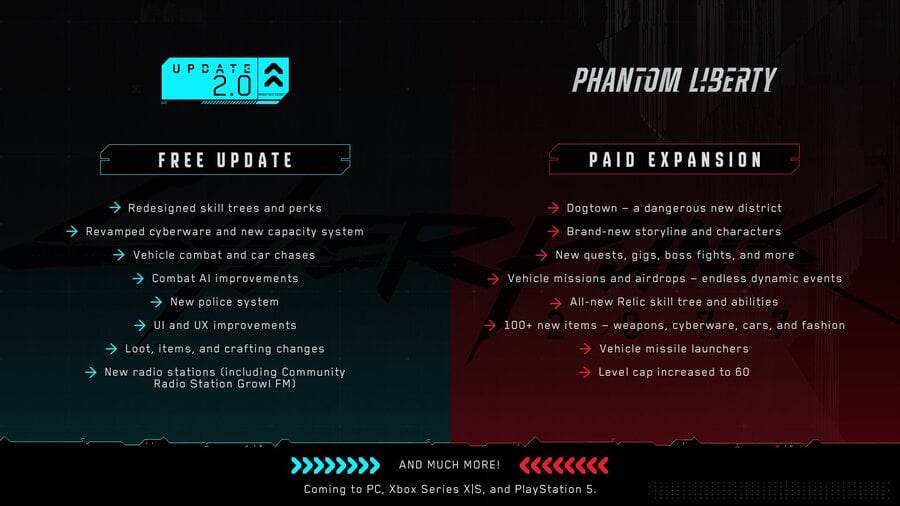 As previously reported, we don't know the exact release date for 2.0, but we do know that it's launching "a bit before" Phantom Liberty. CDPR has another gameplay livestream lined up for the near future, so we'd probably bet on the update dropping when the next show rolls around — or thereabouts.
Check the latest gaming news here.